zMagnify
Beyond Enterprise Search ... Tap into the Social Intelligence of your Teams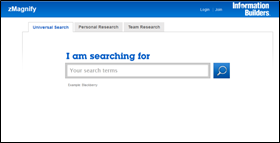 zMagnify is a next generation Enterprise Search and Business Intelligence solution that allows your business teams to respond to market threats, situations and opportunities like never before. This new solution allows users to search for Content and BI Reports in one UI while also allowing them to also Curate and Collaborate around topics of interest.
Ask us for a demo of zMagnify >>
zMagnify delivers universal search of all relevant information assets …
Structured enterprise data
Unstructured enterprise data
Web and Social Media
The Deep Web
Tacit Knowledge
... with Semantics + Curation + Collaboration to enable organizations to tap into the collective wisdom, the Social Intelligence of their teams.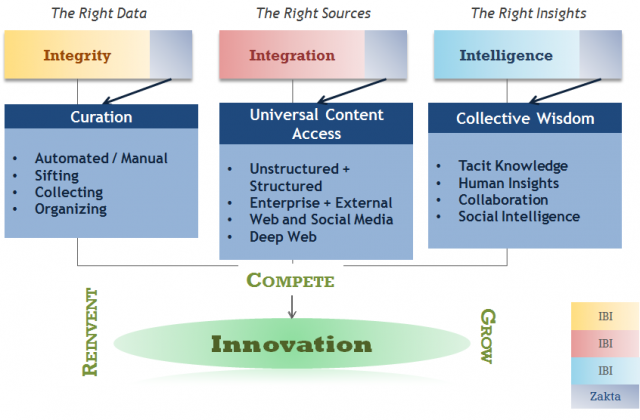 Universal Search
The Universal Search Dashboard, taps into Enterprise Unstructured Data, Structured BI, Web, Social Media, Deep Web and More, Customizable by role and need within an Enterprise.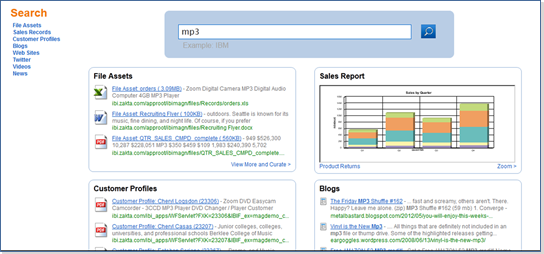 Universal Search Dashboard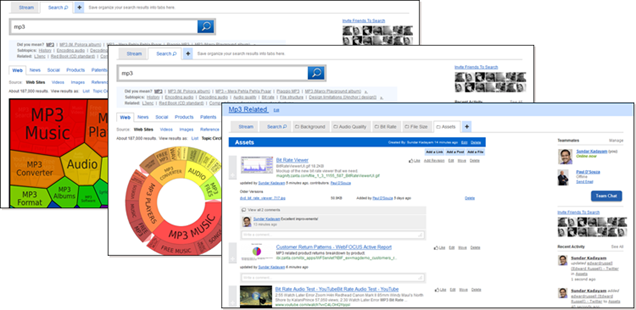 Intelligent Search, Curation and Collaboration
Find Information Fast: Using Semantics, Text analysis, Visualizations, find information easily!
Curate What You Need: Sift and Organize exactly what you need, for any given project or need!
Collaborate With Trusted Teams: Communicate and Collaborate in Real-time or Asynchronously!
... Tailored and Delivered for Your Enterprise!
Ask us for a demo of zMagnify >>
zMagnify Features
Universal Search: Customizable search dashboard bringing information from structured as well as unstructured sources within the enterprise, information from the Web, social media and the Deep Web including subscription information sources, and tacit knowledge, in one single page, in real-time.
Fully Integrated with WebFOCUS Magnify ™: Efficiently index non-searchable collections of information in enterprise systems, including shared file servers, email, or virtually any enterprise system through integrated Information Builders' WebFOCUS Magnify enterprise search tool. And transparently search through all searchable collections of information from one single interface
Customizable Sources: New sources that are relevant for a specific role or need can be readily added into the system
Semantics: Semantic suggestions offered for over 4 million topics, to aid better exploration of information
Automatic Clustering: Real-time clustering of search results into topics
Powerful Visualization: Visualize information in form of hierarchical clusters or tree map / heat map
Patent-pending zSpace™: A place to conduct your research on a topic by yourself or with collaborators. Brings together search, semantics, curation and collaboration together into one single interface
Curation: Save results you want into folders, Hide results you find irrelevant. Sift through search results faster than ever before. Reorganize your findings easily . Start research from where you left off
Trusted Collaboration: Invite trusted peers, collaborators, teammates to research topics with you. Collaborate in real-time, or asynchronously, with full support for both
Collective Wisdom: Tap into team members' thoughts, ideas, comments, through integrated ThoughtStream™, content-centric communication, document sharing with revision control, and chat
Ask us for a demo of zMagnify >>
zMagnify Benefits
Dramatically improve findability

: All your relevant content assets from within the enterprise or outside the enterprise can be searched from one single universal search dashboard.

Vastly boost productivity

: Collaborative search and curation technology helps user teams, workgroups, and organizations find the best information faster together.

Enhance effectiveness

: The transparently growing knowledge base makes it possible to discover information in a timely manner when needed in the future.

Fitted to your needs

: Extensible architecture facilitates rapid integration and customization of all relevant proprietary as well as premium content sources into the platform.

Low cost of ownership

: Secure, private, cloud-based deployment, dramatically lowers the cost of development, integration, maintenance and total cost of ownership. On-premise as well as hybrid deployment options available.